Release.

Live Grooves… Epic Tales
Date

October 23, 2012

Catalog

HR-10009

Genres

Artists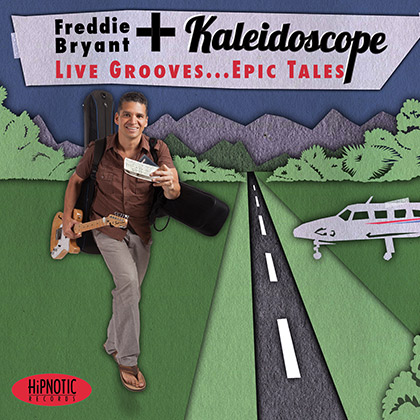 Album Notes.
A multi-directional musician who shifts easily from straight ahead jazz with drumming great Ben Riley's Monk Legacy Septet and the Mingus Orchestra (a regular gig he's had for ten years) to Indian ragas with Dharma Jazz and acoustic world music with Trio del Sol, to soothing bossa novas and grooving sambas on two previous recordings – 1998's Brazilian Rosewood and 1999's Boogaloo Brasileiro — guitarist Freddie Bryant expands his ever-widening musical palette on Live Grooves…Epic Tales.
Accompanying Bryant on his fifth outing as a leader is an outstanding crew of tenor saxophonist Donny McCaslin, Cuban alto saxophonist Yosvany Terry and Spanish pianist Juan Galiardo. The rhythm tandem is rounded out by electric bassist Patrice Blanchard from Martinique and drummer Willard Dyson, who appeared on Bryant's last recording with his group Kaleidoscope, 2000's Live at Smoke. Special guest Steve Wilson contributes some virtuosic flute work on "Beginner's Mind" and Bryant's daughter Nia plays the flute melody on the upbeat sing-along number "La, La, Ohh!"
While Bryant reprises two songs here that he had previously recorded on 2005's Trio del Sol, "Drum On, Drum On" and "Beginner's Mind," he says, "That record felt like chamber music to me. Whereas, this one feels more like a bunch of cats in a jazz club just blowing. That's why I called it Live Grooves, because although it's a studio session it feels more like a live gig."
Many of the tunes here reflect Bryant's whirlwind touring experience in recent years on state department-sponsored trips to Papua New Guinea, Singapore, India, Burma, Cuba, Mexico, Senegal, Malawi, Tanzania, Madagascar, Ethiopia and other exotic points on the map. His buoyant party tune "La, La Ohh!," in fact, was written on the back of a boarding pass on a plane ride from Manila to Japan as is reflected in the CD cover art.
Throughout the CD, Bryant deftly shifts between three guitars. His main axe here is a Fender Telecaster, which he uses to good effect on the relaxed "Blues Koan," the dark, gospel-infused, Mingus flavored 3/4 number "Goddess," the bristling Hermeto Pascoal flavored baiao "Passages," the infectious "Bo Diddley," which neatly segues from a 3/2 clave to an alluring samba groove, and a cover of organist Billy Gardner's "Boop Bop Bing Bash." The entrancing and intricate Indian-meets-Middle Eastern number "Drum On, Drum On," written for his collaborator and Ravi Shankar disciple Shubhendra Rao, and "Beginner's Mind" both feature his accomplished finger-style playing on 12-string acoustic guitar while the breezy "La, La, Ohh!," the melancholy, minor key "Alone" (with Bryant reciting the words of a Maya Angelou poem) and the beautiful closer "Bolero" have him exhibiting brilliant finger-style technique on a nylon string acoustic.
"Each tune on this album has a different kind of groove," says the veteran guitarist who studied with acclaimed jazz guitarists Sal Salvador, Ted Dunbar and Gene Bertoncini and received his masters degree in classical guitar at the Yale School of Music. "It's not a straight ahead record but it's definitely got jazz elements throughout. And each tune has an epic quality to it. There're no short stories here."
It's a compelling 'read' by one of the most gifted and versatile guitarists on the scene today.
– Bill Milkowski
Bill Milkowski is a regular contributor to Jazz Times. He is also the author of "JACO: The Extraordinary and Tragic Life of Jaco Pastorius" and co-author of "Here And Now! The Autobiography of Pat Martino" (both on Backbeat Books)