Release.

Ballad of Sam Langford
Date

December 10, 2012

Catalog

HR-10010

Genres

Artists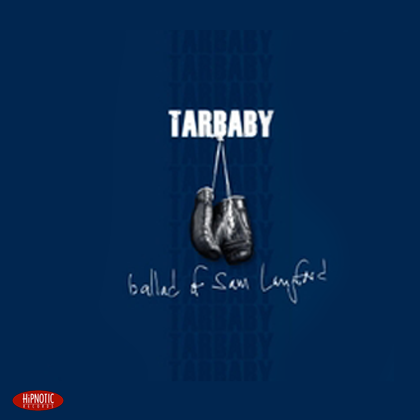 Video.
Tracklist.
1. Title Bout (Opening Round)
2. Aztec
3. When
4. Mbbs
5. Rolling Vamp
6. Kush
7. Korean Bounce
8. Asiam
9. Hat Trick
10. August
11. Nobody Knows
12. Come
13. Title Bout (Final Round)
Album Notes.
The Ballad of Sam Langford represents an auspicious third chapter in the recorded history of this adventurous cooperative trio, with guests. So their collective name is Tarbaby; exactly where did that provocative moniker originate, what inspired pianist Orrin Evans, bassist Eric Revis, and drummer Nasheet Waits to come up with that one? Was it the literary mind of Evans, son of a prominent playwright and by dint of his previous recordings, a man certainly not bereft of either humor or imagination? Or was it the adventurous likes of Revis, known also as the bassist of the Branford Marsalis Quartet, or perhaps Waits, the crafty drummer in another bristling trio, Jason Moran's Bandwagon? The answer stems from boxing annals, and the title of this recording is homage to the source.
Turn of the 20th century Canadian boxer Sam Langford, hailed by ESPN as the "Greatest fighter nobody knows," was known as a fearsome puncher (Ring magazine rated him in its "100 greatest punchers of all time" list). No less than the great Jack Johnson is reputed to have ducked the compact (5'6 ½" 185 lbs.) pugilist, so prodigious were his skills. Langford was known by several sobriquets, the most impertinent being "The Boston Tar Baby", thus the name of this exceptional trio. His story certainly sounds like one Orrin Evans' late father, the playwright Don Evans might have championed theatrically.
Tarbaby's first complete album The End of Fear, released in 2010 (their debut was a self-titled 2009 EP), invited three guests into their inventive lair, saxophonists JD Allen and Oliver Lake, and trumpeter Nicholas Payton. This time out they've invited Lake back for a second go on six tracks, as well as trumpeter Ambrose Akinmusire for an equal number. The rather inside/out perspectives of Lake and Akinmusire are a good match for Tarbaby's ambitious tableaux. "Mr. Lake has lived this aesthetic for quite some time," remarks Revis. "His contributions on and off the bandstand are immeasurable. To witness his artistic vitality in music, art and life is a tremendous source of inspiration to us all," he continues on Lake, a man whose robust career has ranged from neo reggae to the World Saxophone Quartet to jump blues to new sonic textures. "Oliver recorded with my father, [drummer] Freddie Waits over 25 years ago. His sound is incredible!!! He's a story teller of the highest order," enthuses Waits.
Akinmusire, the noted trumpet ace who records for Blue Note, is from the generation that arrived just after Evans, Revis and Waits. But he fits the Tarbaby approach quite comfortably and contributes quite essentially to this disc. "I've had the pleasure of working with Ambrose in some other situations, so I know he shares the same artistic integrity as we do," says Waits. "Our goal in this music is to adhere to the concept of the continuum," continues Revis. "Acknowledging and having a deep reference for tradition, while being very much committed to an artistic trajectory that is forward in nature. Ambrose embodies this aesthetic, so it was very natural for us to choose him as someone we wanted to collaborate with," the bassist says of his fellow Californian.
Throughout this disc there is a keen sense of drama, in the way themes are stated and improvisations embellish those themes, as well as in the vigorous nature of playing these five musicians consistently display. Befitting the core trio's co-led nature, no one figure ever predominates, not merely in the case of the whole program, but also within the 13 episodes that comprise this disc; and these are most assuredly episodes, or movements if you prefer, more than mere tunes. Tarbaby lays down a fine sense of true programming with this release; and believe me, there's a fine line between programming and just playing tunes.
"Title Bout" is a sonic prelude to the delicacies that follow, with Lake's slightly acidic alto neatly balancing Ambrose's subtle clarion. Lake's "Aztec" bears the hang/fly quality of his inside/out perspectives. "When" is a pastoral Evans' arrangement that bears a certain foreboding quality while seemingly asking musical questions. The pianist's "MBBS is a line reminiscent of Jackie McLean. After Lake and Akinmusire state its pithy theme, and following a compact discourse from the trumpeter, the trail opens for Evans' assertive swing with Revis and Waits; Ambrose and Revis dialogue on the dissolve.
"Rolling Vamp" is Lake's second contribution to this date, finding Ambrose riding the waves of Waits. "Kush" is a lovely dark chocolate ballad from Waits; listen to the way the trio breathes as one here. On Waits' "Korean Bounce" dig how the composer's crafty drum work elicits some overblowing and puckish mouthpiece manipulation from the trumpeter, prior to a free arco interlude from Revis; seems this Korean journey may have been a bit fraught with intrigue. Akinmusire's contribution "Asiam" is a lovely trumpet/piano duet.
These 13 original compositions include four pieces collectively contributed by Tarbaby: the opening and closing episodes of "Title Bout", "Nobody Knows," and "Hat Trick." Asked how the band goes about the task of collective composition, Revis says "The three of us have worked as a unit for over 10 years and we have known each other and worked in a variety of configurations even longer. One of the reasons we formed the group was our almost preternatural rapport. We think very much alike as to how we interpret music." And with respect to their collective composition represented on this disc, "We decided to go in with either no preconceived ideas or very skeletal sketches," says the bassist. "The tunes took on their shapes and personalities almost instantly." Adds Waits, "We are like-minded in myriad ways. When there are discussions of the path (melody, rhythm, harmony… decisions were made expeditiously."
This chapter of Tarbaby is released on the independent HiPNOTIC Records label, the catalogue of the ambitious DC-based Tony Haywood, whose recordings reflect a keen eye for creativity. "I look for artists who have a strong reverence for jazz tradition and who also bring an original approach to the music through their playing, composing and arranging. Tarbaby obviously fits the bill with the dynamism and creative intensity they bring, individually and collectively. Oliver and Ambrose clearly are important and like-minded voices on their instruments," agrees Haywood.
Here's a record that should rank high in year-end assessments because it has all the earmarks even before you give it a spin: a first class core and rhythm section, two distinctive guest instrumental voices – one somewhat younger, the other someone the core trio came up listening to and appreciating for his range of experiences – and compositions which continually reveal their gifts with repeated spins.
Willard Jenkins is a journalist-concerts & festivals presenter-consultant, broadcaster at WPFW in Washington, DC and author of African Rhythms, the autobiography of Randy Weston (Duke University Press).