Release.

Y'all Got It
Date

January 1, 2005

Catalog

HR-10003

Genres

Artists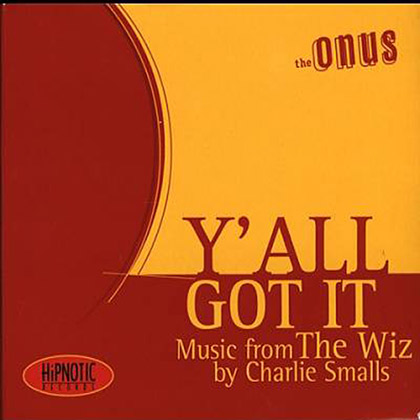 Description.
Y'All Got It pays loving tribute to the late composer Charlie Smalls whose brainchild, the 1975 Tony Award-winning musical The Wiz, left an indelible mark on Harper when he saw the original Broadway production as child. The recording features the entire quintet, with Appelman alternating between piano and B3 organ. Although organ has been incorporated (with and without bass) in the band's live performances since 1998, Y'All Got It is The Onus's first recording to feature that instrument and the B3 brings a warmth and energy to the music that are appropriate to the soulful, Gospel-informed material.
The CD presents Harper's sympathetic arrangement of eight tunes from The Wiz and a Smalls-inspired ballad by noted jazz composer and educator Andy Jaffe. The arrangements showcase the beauty of the familiar melodies against the backdrop of swing, Brazilian "bossa," Indian "mora," and Congolese-infuenced New Orleans rhythms. In this way, the album succeeds in both nurturing nostalgia for the musical and re-introducing Smalls's compositions as viable and interesting vehicles for jazz improvisation.
The musicians take turns introducing the tunes and rendering the melodies, in addition to delivering masterful solos, interactive accompaniment, and spirited group improvisation. Fans of the musical and fans of "the music" will be equally satisfied with the results!