Release.

Seed
Date

June 16, 2001

Catalog

OM001

Genres

Artists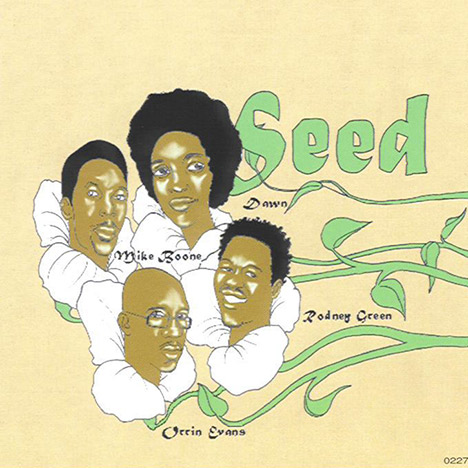 Tracklist.
1 T.C.'s Blues
2 Prayer for Columbine
3 Boffadem
4 Hello It's Me
5 When It Comes
6 Commitment
7 Libra
8 Boffadem (Dialogue)
Promo video.
Album Review.
Seed is the brainchild of pianist Orrin Evans and his wife Dawn, a singer who performs under her first name. The group is a departure from Evans's regular output on the Criss Cross label, but Seed's music — almost all of it composed by Evans — bristles with the same sort of free-spirited improvisational fire. On this debut release, Evans, Dawn, bassist Mike Boone, and drummer Rodney Green, all listed as the group's core members, are joined by an illustrious crew of special guests. Three of the numbers, "T.C.'s Blues," "Commitment," and "Libra," feature Evans in a trio setting. Tenorist Ralph Bowen — one of jazz's best kept secrets — and altoist Gary Bartz join on the colorful, swaying "Prayer for Columbine" and the abstract, high-energy blues "When It Comes." The latter also features strong playing by trumpeter Duane Eubanks. Branford Marsalis, on soprano saxophone, comes on board for "Boffadem," a gliding Afro-Latin theme based on a riff that alternates between 5/4 and 6/4. The meaning of the title becomes clear upon listening to the final track, "Boffadem (Dialogue)."
Dawn is featured on an ethereal ballad version of Todd Rundgren's "Hello, It's Me." There's a line in the song that ends, "And spend the night if you think I should," which Dawn changes to, "And spend the night with you if you want me to." This slight alteration loses the poetic urgency of the original, although the strength and beauty of Dawn's voice are undeniable.
With its connotations of organic unity and germinal beginnings, Seed is an apt name for this band, and a viable framework for some of the most representative music of Orrin Evans's career to date. As a musical partnership between Evans and Dawn, moreover, it bodes well for the future. ~ David R. Adler, Rovi