Release.

Reoccurring Dream
Date

January 1, 2000

Catalog

OM002

Genres

Artists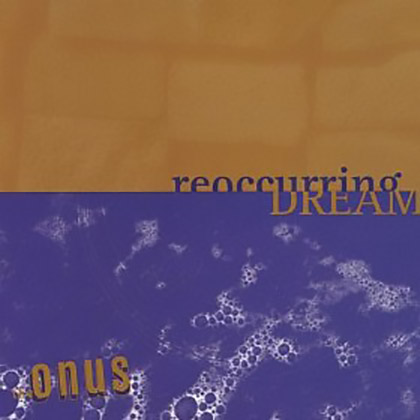 Album Notes.
Minutes into the opening set of a June '99 performance by The Onus at New York City's Soul Cafe, pianist Orrin Evans — who, along with drummer Nasheet Waits, had trekked from the City of Brotherly Love to check out the ensemble — was moved to smile and exclaim, "Now they sound like a band!"
Not lost on Evans, first runner-up in the 1999 Thelonious Monk International Jazz Competition, was that, in The Onus, bandleader and clarinetist Darryl Harper had achieved something somewhat rare in the contemporary world of modern jazz; namely, create a distinctive, sophisticated and engaging group sound. In the context of a jazz marketplace in which individual virtuosity often overshadows cumulative aesthetic value, Evans' remark, mundane on its face, conveyed a deep admiration for Harper's subtle, but heady, achievement.
Subtlety and brashness are, in fact, characteristics native to the soft-spoken, high-minded and mildly contrarian Harper, who began playing clarinet, as a six-year-old, at Philadelphia's Settlement Music School. Prior to obtaining a master's degree in jazz performance at Rutgers University, Harper had led bands both throughout high school and while attending Amherst College where he earned a Phi Beta Kappa key and summa cum laude honors in music. Animated by a love and admiration for the great working-bands (especially the ground-breaking Miles Davis quintet of the 60's) that achieved and sustained an exceptional level of musicality through empathetic communication, Harper, in the summer of 1996, set out to form an ensemble in the truest sense. The Onus — Latin for "responsibility" — is the irresistable result.
Fronted by Harper and fellow Rutgers jazz alumnus, guitarist Jeff Ray, The Onus achieves its singularly seductive sound in part through its marriage of "throwback" instrumentation, recalling the legendary Benny Goodman-Charlie Christian pairing, and a decidedly modern rhythmic and harmonic concept. Adding to the eclectic mix, an extensive and ever-expanding repertoire of original compositions, re-worked standards, and arrangements of "imported standards" (eg., Stevie Wonder's "Too High") provides fresh fodder for soulful improvisation, while exploiting the unusual tonal and textural possibilities supplied by the band's five instrumental voices. Just as critical to the aesthetic result is the degree of dynamic interaction within the ensemble. This "openness" is enabled both by Harper's imaginative writing and arranging and by the genuine musical camaraderie that exists among Harper, Ray and a dynamic rhythm section consisting of bassist Matthew Parrish, the venerable Philadelphia jazz/funk drummer Harry "Butch" Reed and, at different times, pianists Jason Shattil, Kyle Koehler and Harry Appelman.
Fortunately for those of us privileged to hear the results, Harper has created, in this band of gifted and genuinely artful musicians, a communal context that is conducive to expressing, in sincere artistic conversation, his own sophisticated and captivating voice. Much more than that, he has brought forth one of the most readily-identifiable and appealing group sounds on today's modern jazz scene.
"Reoccurring Dream" is the long-awaited successor to The Onus's self-titled debut CD. The recording finds the band, some three years later, exhibiting the sort of vibrancy and cohesiveness that comes only with time spent playing joyfully together. With all the vitality and spontaneity of a jam session, and yet with all the empathy and sensitivity of a veteran chamber ensemble, The Onus brings vividly to life a program of original compositions and creatively arranged standards that probe the mysterious, liquid realms of dreams, reflection, romance and introspection.
Interspersed among the album's nine tracks, four very distinct iterations of the blues ("Nostalgia in Times Square", "Reoccurring Dream", "I Wonder" and "Narcolepsy") explore these moods, while establishing a reoccurring theme, if you will, for the recording. The pace of the album varies, at the extremes, from the quintet's burning rendition of "Night and Day" to pianist Kyle Koehler's smoldering impressionistic solo treatment of "Falling Leaves" (Harper's arrangement of Johnny Mercer's classic ballad "Autumn Leaves"), the only track that doesn't employ the full quintet. Group improvisation continues to be a hallmark of The Onus, as demonstrated by the extended funk-groove burnout on Ray's ebullient "Letter to My Brother" and various other "free" moments throughout the CD.
Says director Darryl Harper about the ensemble's growth and the new release, "The more we have worked together, the more I have come to appreciate and enjoy the particular contributions of each of the members of the ensemble. When I listen to the album, I hear such growth in our sound, in our rapport. It's like listening to a relationship mature and ripen."