Bio.

Marianne Solivan
Origin
New York, NY
Links
Website
Email
Booking Inquiries
Sherry Morris
Ph: 917.856.6108
Press Inquiries
Kim Smith
public relations
Ph: 917 349 8090
Genres
Vocal Jazz
---
Latest
Release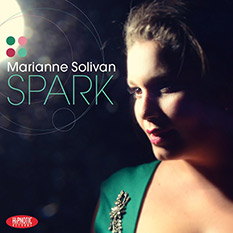 Quickly becoming one of the most buzzed about jazz singers on the New York scene, Marianne Solivan does not remember an "ah-ha" moment that brought her to the music she has devoted herself to: "I don't recall having a big moment that made me like jazz. I just dug it."
It is that same simplicity of statement with its intrinsic honesty that characterizes Solivan's style. The infallible swing of Ella, the daring of Betty Carter, the matter-of factness of Carmen McCrae…They can all be found in the voice of Marianne Solivan, whom trumpeter Jeremy Pelt has called "the modern-day paradigm to which all singers should aspire."
It is no coincidence that the 2009 Jazzmobile Vocal Competition finalist has graced recital halls, jam sessions and club stages with such noted musicians as Roy Hargrove, Steve Lacy, Jeremy Pelt, Ray Gallon (Ron Carter, Lionel Hampton, T.S. Monk), Ugonna Ukegwo (Tom Harrell, Jacky Terrason) and Jane Monheit's sidemen Neal Minor and Michael Kanan.
Born in Queens, New York, Solivan's family lived in Venezuela and New Jersey before settling in Massachusetts, where she attended high school. Already an alto sax student, it was in secondary school that she began singing seriously, studying classical voice and appearing in musical theater productions. Upon graduating, she entered The Boston Conservatory with a concentration in musical theater. After her first year in college, Solivan took time off from school and drifted away from singing, not returning for three years. The urge to resume studying voice and go back to school coincided with her discovery of the voice that would become her greatest influence: Ella Fitzgerald.
She recalls, "I purchased the four oddest recordings for a jazz newcomer: one of those Ella Fitzgerald songbook compilations, a Dominique Eade recording, Nina Simone Sings The Blues and At the Village Vanguard: Betty Carter. Fitzgerald, especially, made a great impression on her: "There's such tremendous hopefulness in all her music. No matter how sad the ballad, no matter how bad the break-up song, there's always a silver lining. "
Solivan was singing pop when she entered Berklee College of Music, but quickly decided she wanted to learn this music called jazz. Earning a dual degree in Music Performance and Education, she taught music for a year before entering New England Conservatory and earning a Master's degree in Jazz Studies.
Armed with two prestigious degrees and formidable talent, Solivan moved back to the city of her birth in 2007, placing in the Jazzmobile Vocal Competition, appearing as the only featured vocalist on clarinetist Darryl Harper's The C3 project recording, Stories in Real Time, and touring France as the lead vocalist in an innovative staging of Shakespeare's Julius Caesar.
Solivan is as likely to pop up at jazz institution Smalls Jazz Club with a full band as she is an intimate restaurant with only a piano accompanist. Regardless, jazz lovers and musicians alike are captivated by her sound and her style. Not all are able to articulate what attracts them as well as Pelt. Ultimately, they just dig it.
The making of SPARK
video
New Release by Marianne Solivan on HiPNOTIC Records
Spark is the 2nd CD for jazz vocalist Marianne Solivan. Accompanied by Xavier Davis, Matthew Parrish and Gregory Hutchinson, Marianne introduces us to the music on Spark, to be released on
September 30, 2014
For more info
www.mariannesolivanjazz.com
To purchase the CD
ITunes, Amazon, CDBaby etc….